Retail Activation & Staffing
·
Stockholm
·
Hybrid
Retail Specialist för TP Vision/Philips TV & Sound - Stockholm
Är du en relationsbyggare och socialt skicklig säljare? Då är detta något för dig!
Nordic Retail Group söker nu en Retail Specialist som ska arbeta för TP Vision/Philips TV & Sound.

Om TP Vision
TP Vision är en nyckelspelare inom hemelektronik inom TV- och ljudunderhållning. TP Vision koncentrerar sig på att utveckla, tillverka och marknadsföra Philips-märkta TV-apparater och Philips-märkta ljudprodukter.
Om rollen
Vi söker en person som ska representera TP Vision bosatt i Stockholm och kan resa till olika städer i perioder. Du kommer att bygga en relation med återförsäljare och butikssäljare, för att öka synlighet och kunskap i butiker för TP Visions produkter. Du kommer även att representera TP Vision och vara säljstöd för butikerna, arbeta med event emellanåt, samt demo av produkter.


Vi söker dig som:
Har erfarenhet av detaljhandel
Arbetat med premiumprodukter
Har en passion för teknik
Gillar att stå på scen
Behärskar svenska och engelska flytande – både i tal och skrift
Gillar att bygga och hantera relationer.
Körkort är ett krav
Personliga egenskaper
Problemlösare
Du ser utmaningar som något som är till för att lösas
Du är teknikintresserad och strävar efter att lära dig mer
Du är service minded och stresstålig
Skicklig socialt och gillar att träffa nya människor
Trivs med att ta eget ansvar
Har högt driv - du ska tycka om att arbeta
Övrigt
Tycker du ovanstående låter intressant kan vi erbjuda dig en spännande tjänst i en framgångsrik organisation med stora utvecklingsmöjligheter. Tjänsten är främst på vardagar med vid behov kan det behövas att du jobbar kvällar, helger, samt att åka iväg och lösa eventuella utmaningar som kan dyka upp – över hela Norden om så krävs.
I detta uppdrag är du anställd som konsult hos Nordic Retail Group men utför arbetet för TP Vision.
Tjänsten beräknas tillsättas snarast. Intervjuer sker löpande så ansök nu. Frågor om tjänsten (ej ansökningar) kan ställas till Karina Nilsson på: karina.nilsson@nordicretailgroup.com
Om Nordic Retail Group

Nordic Retail Group är en fullservice retail byrå, som grundades 1997 och finns idag lokalt representerade i alla fyra nordiska länder. Vi fokuserar på att hjälpa våra kunder att bygga sina varumärken och nå sina mål genom att erbjuda bemanning, rekrytering, creative studio, och andra innovativa uppfinningar för våra kunder. Vi har byggt ett starkt team och vi vet vad som krävs för ett varumärke att lyckas inom retail och hur man ökar försäljning både lokalt och globalt.
Vi värdesätter högt att ha ett mångsidigt team med olika typer av erfarenheter och bakgrunder som ingår i gruppen. Det är viktigt för oss att alla känner sig värderade, uppskattade och som en viktig del av vårt team. Det viktigaste är att vi vill att vår personal ska älska att komma till jobbet. Som våra grundare alltid säger: "Du ska inte bara vissla på väg hem från kontoret – utan också på väg till kontoret".
Besök vår hemsida www.nordicretailgroup.com för mer information.

Departments

Role

Retail Specialist

Locations

Remote status

Hybrid

Employment type

Full-time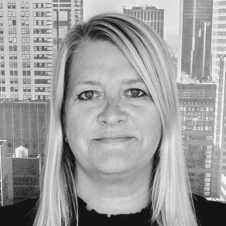 Contact
Karina Nilsson
Consultant Manager – Retail Activation & Staffing
Why Nordic Retail Group?
The work environment at Nordic Retail Group is creative and energetic. We have a dynamic and collaborative company culture, where we're always eager to go the extra mile in order to succeed.
We truly have a passion for people, that's why it's so important for us to offer the most safe, inclusive and inspiring workplace that we possibly can for our amazing employees.
We highly value having a diverse team with different types of experiences and backgrounds included in the mix. It's important to us that everyone feels valued, appreciated and like an important part of our team.
Most importantly, we want our staff to love coming to work. Like our founders always says: "You should not only whistle on your way home from the office – but also on your way to the office."
About Nordic Retail Group
Nordic Retail Group is a full-service retail agency unlike any other. With relentless determination and an anything-is-possible mentality, we have with great success helped our clients to build their brands and reach their goals.
How? We have built a strong team of hard workers, creatives and doers who love going to work every day. We know what's needed for a brand to succeed in retail, and how to increase sales both locally and globally.
Welcome to NRG
Part of Lighthouse Group
Retail Activation & Staffing
·
Stockholm
·
Hybrid
Retail Specialist för TP Vision/Philips TV & Sound - Stockholm
Är du en relationsbyggare och socialt skicklig säljare? Då är detta något för dig!
Loading application form
Already working at Nordic Retail Group ?
Let's recruit together and find your next colleague.